I may be a little slow on the uptake in asking
"W
hat's written
on Phil Hughes
glove?"
since it was the topic of conversation over at the Yankees site back in October. But I just noticed it tonight as the Bombers bombed Beckett in Boston.
So, what's on the glove?
Sure, his name is there: Hughes written above Phil. But it's what's next to Phil which is intriguing: 4:13. I had to double check to make sure I was actually seeing a colon between the two numbers. Because if I did, then that could only mean one thing: Scripture verse. Sure enough, it's St. Paul's letter to the Philippians, chapter 4, verse 13:

"I can do all things through Christ who strengthens me."
But having it stitched on his glove isn't enough for Phil. After all, gloves get old and are put away. It turns out that that same verse is what is written out on his arm: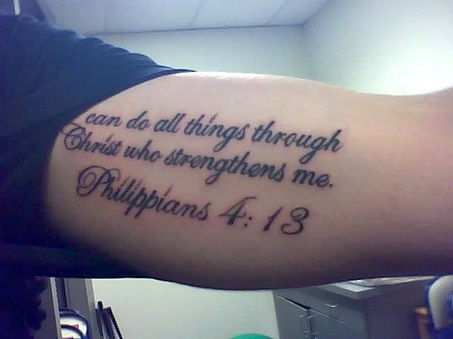 Yes, this is Phil Hughes actual arm

Hughes' showing of faith doesn't stop at his arm, though. Looking closely at the picture below, you can see the graphic on his t-shirt consists of a bird and.........rosary beads. I have hunch, then, that Hughes is a practicing Catholic.
Hughes, like his teammate Mariano Rivera, is intense to watch. When you see their faces, you can tell that they are "in the zone." I've heard it said that Rivera wants to be a minister once he retires. It's probably no small coincidence that Rivera is also a religious guy.
Don't get me wrong--I don't believe that just because an athlete says he's a Christian that this automatically makes him a good guy or a good ball player. I also don't believe God gives more talent to athletes who claim Him. What I do believe, though, is that if an athlete does claim religiosity, it's also not much of a stretch that he will also value his work a great deal.
Work is not often talked about in a religious sense, but work needs to be understood in such a way. The desire for work is innate to man's sensibilities: we need it for our very humanity. We need it for our own dignity. Far too often these days, the talk about high unemployment rates usually circle around rising debt and not meeting the needs of the unemployed. These are important topics for sure, but what's not talked about is the loss of dignity for the individual seeking employment. If a man can't find work, how can he find himself?
Many of my readers know that I have not had a paying job in over a year. I say "paying job" because while I do not have a steady paycheck, I have been working by building my writing career. This has been a great source of dignity for me these days because it is Christ who has brought me here. It is Christ who has given me the strength in all things.
I'm reminded of these words from Pope John Paul II in his encyclical,
"Laborem Exercens,"
or "On Human Work" (1981):
It is not only good in the sense that it is useful or something to enjoy; it is also good as being something worthy, that is to say, something that corresponds to man's dignity, that expresses this dignity and increases it. If one wishes to define more clearly the ethical meaning of work, it is this truth that one must particularly keep in mind. Work is a good thing for man-a good thing for his humanity-because through work man not only transforms nature, adapting it to his own needs, but he also achieves fulfillment as a human being and indeed, in a sense, becomes "more a human being".
In other words, we share in the creative activity of the Creator with our work. And to do that, we too must be "in the zone."
And you thought this post was just going to be about Phil Hughes' glove.
So did I. :)
Links of Interest:
John Paul II encyclical "On Human Work":
www.vatican.va
Phil Hughes blog
:
www.yardbarker.com
(found out he listens to Christian rock. Blech. Could be worse, he could listen to Metallica. Oh wait. He does.)